Great Lakes Results
Ernie Knepp released the results from Championship Event held by the Great Lakes Trials Club. You can view the results on the Standings Page. Overall Team and Overall MOTA Points have also been updated.
---
Bent Fenders Flyer
Biff has released the flyer for the Saturday Championship Event help September 18th, 2021 in Flushing, Michigan. Check out the Bent Fender's page and the flyer for more information Facetime Tucker at (810) 252-2627.
---
Metro's Flyer is Awesome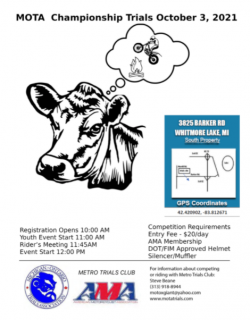 Got to say there is new competition for best creative Trials flyers with Matt Bushmore's new Metro Flyer. He even sent a PNG so I put it in the email.
Check out the Metro Fall Flyer!
Still waiting on an East Side Flyer and Mid Michigan's Flyer. Those should be out soon.