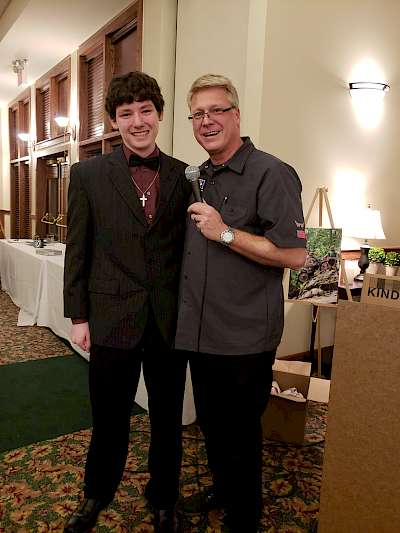 2018 M.O.T.A. Championship Awards Banquet was recently held at it's new location in Hartland, Michigan. The turnout was great and so was the food provided by the Dunham Hills Golf Course. M.O.T.A. riders enjoyed the rich atmosphere which included a fireplace to warm up after coming in from the cold. Attendees enjoyed watching a slideshow of recent competitions brought in by Michiana Champion Mark VanDiepenBos.
The VanDiepenbos family also created and donated a 2019 M.O.T.A. calendar featuring the 2018 Champions of every class. Lorraine Celis brought in some photos and posters of M.O.T.A. and World Round photographs she has taken over the past few years. Brian Aherne, David Knapp, Mont Annis and Brent Bennett from Bennett-Powersports provided two tables of door prizes and swag for the attendees including sun umbrellas, oils, hats and water bottles.
The Awards were presented to the M.O.T.A. champions by the 2018-2019 Chairman Mont Annis. Due to a family emergency David 'Biff' Knapp accepted his award live via facetime from New York with his mother and father. Here are the 2018 M.O.T.A. Champions:
Youth - Lana Leenheer

Beginner - Larson Bennett

Novice - Wilhelm Krupke

Intermediate - Adam Mathews

Sportsman - Mark VanDiepenBos

Senior - Brian Aherne

Advanced - Ken Sprague

Expert - Brad Howard
Mont Annis was awarded the 2018 Sportsperson of the Year Award. Much thanks goes out to Brian Aherne and Bob Capistrant who did all the research and planning for this great event. Special thanks to Les Mason for dealing with the reservations and checking everyone in.
Click on any photo to enlarge