Event News and Updates
---
Next Event: Vintage and Championship Two Day at Rose City
EastSide Competition Riders present a Vintage Trials Event Saturday August 3, and a Championship Event on the 4th.
Sign up Saturday at 10am. Sections open 12am Entry Fees - Adult $20 (No separate youth sections)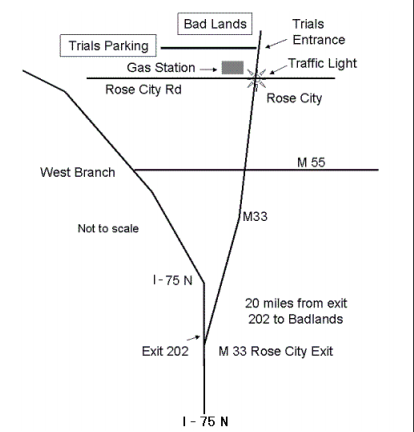 Participation requirements:
CURRENT AMA membership
DOT/FIM approved helmet
Silencer/muffler.
Under 18 MUST have waiver signed by BOTH parents or guardians. No exceptions!
Primitive camping available on site $10 per night. Modern bikes are welcome to ride the event the Vintage Event the day before.
Contact info:
Lester Mason 248-628-4541
Bob Capistrant 810-750-5258
---
2019 Handbook Published
The 2019 M.O.T.A. Handbook has been released by Les Mason and can be viewed and downloaded in the Resources section of the MOTA website. Metro, Bent Fender's and East Side has released their flyers for their upcoming events so make sure to check out the events page.
All MOTA Points competing riders should contact their club's representative to make sure they are on the 2019 Roster.
---
Popular Links
Our site keeps growing so here are some popular links to help you around the site. If you have questions please feel free to contact a club or member near you.
---
Celebrating 53 years of Promoting Trials Events
The Michigan Ontario Trials Association is proud of it's rich history in promoting the sport of Observed Motorcycle Trials in the Michigan and Ontario regions. A Non-Profit organization devoted to promoting observed motorcycle trials activity in the Michigan-Ontario Area. Composed of a number of member clubs, M.O.T.A. sponsors virtually all trials events held in the area. Each observed trials is organized and conducted by one of the member clubs solely for the enjoyment of other M.O.T.A. club members, and any other riders who wish to participate. Any fees collected are intended only to provide enough funds to perpetuate the sport.