Michiana Championship Two Day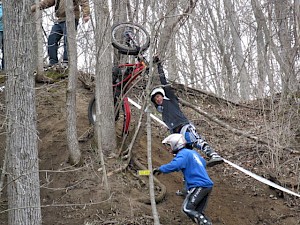 Championship Two Day Event (June 23 & 24, 2018) - Two day M.O.T.A. Championship Event June 23 & 24th hosted by the 2017 M.O.T.A. Championship Team Michiana Trials Riders.
This points paying event will be at the Sam Markley property in New Paris, Indiana. This property is infamous for it's river rocks, pebbles pits, giant tires, steel drums and barrels, red piny squirrels, steep quarry hill climbs, and great sections.
Requirements to compete in an AMA and MOTA Sanctioned Event.
Entry Fee: $20 per day
D.O.T./FIM Approved Helmet
Silencer/Muffler Required
Spectators under 18 years must have a waiver signed by a parent or legal guardian, Competitors must have BOTH parents or legal guardians signatures.
Contact Information: